Inclusive family Theater Studio "Good Story"
The studio was created with the support of the Presidential Grants Foundation.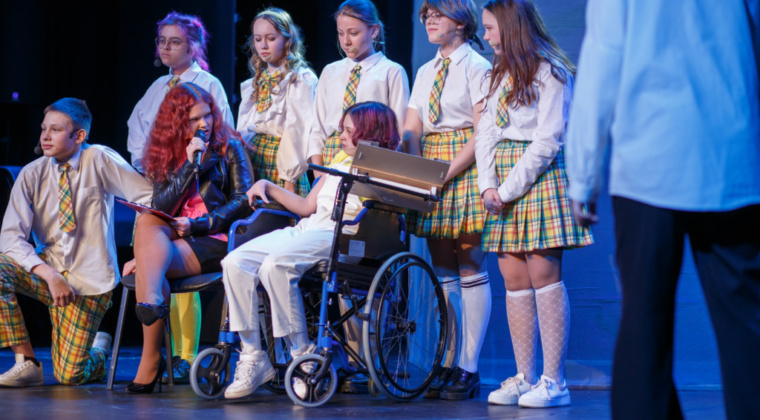 Iskorka has many years of experience in staging charity performances with the participation of children with cancer. In March 2020, with the support of the Presidential Grants Foundation, we created the Inclusive Family Theater Studio "Good Story". The head, producer, director and screenwriter of the studio is our brilliant and multitasking Natalia Shirokova.
The problems of reabilitation
In the Chelyabinsk Region, more than 130 children are diagnosed with oncology and hematology diseases every year. And even after a full recovery, it remains a set of problems that require rehabilitation. Many families continue to live in a state of "waiting for cancer".
There exist some psychological problems faced by the family after the recovery of the child. Some of them are fear of death, fatigue from the treatment, spiritual exhaustion, and lack of self-confidence as well as difficulties in communicating with peers due to prolonged isolation. Finally, some parents are overprotective.
Siblings in turn have been lack of their parents' attention for a long time as every ounce of strength the family possess is thrown to save the sick child. Siblings are noted to have a decrease in self-esteem; self-doubt; a passive life position; early "adulthood", and even destructive behavior and aggression.
Rehabilitation by means of the theater
To correct the emotional state of children and adapt to society, we have created a family studio. The project involves children survived the cancer, siblings, healthy peers, and parents. There are 150 people aged 4 to 60 years. An original script was written for the production of the play "Happiness is in you". The physical capabilities of the artists are taken into account during the process of creating images of heroes.
Participants have classes with psychologists, speech therapists, art therapists, and coaches in acting, theater, vocal and choreographic art.
Theatrical performance will give the studio participants the opportunity to realize their creative potential and get a unique experience. And the audience will see the examples of successful treatment and effective socialization. And they will be able to help children who are still being treated. The money raised will be used for the treatment and rehabilitation of children with oncology and hematology diseases.
The premiere of the play was on November 13, 2020. The main result of the project was the studio's tour to Miass and Troitsk in 2021. The studio also took part in the inclusive theater festival "Dream" in Chelyabinsk. And at the end of the theater season, the actors played in a street environmental performance "Save nature".
The federal publication Argumenty i Fakty made a big publication about the Theater Studio project.
If you want to support the Theater studio, write to its head Natalia Shirokova — korr77@mail.ru.